Meet our River FM 92.9 Presenters
River FM 92.9 is a unique and diverse place and so are our shows and presenters. Find out more about them right here.
Music With a Message
Sal presents 'Music With a Message' on Mondays from 3-4pm. Currently undertaking a PhD at Southern Cross University's School of Law and Justice on 'political music in the digital environment', Sal has done her research on political music! Her favourite artists are Blue King Brown, John Butler Trio, Hilltop Hoods and Luke Vasseslla – expect to hear from some of these artists as well as many many more. Sal is always keen to play music relating to current political issues and also runs a weblog called Music With a Message at : http://mwam929.blogspot.com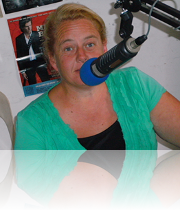 Want to swim against the current? Tune into the Green Scene – Tuesday 9am till Noon
Join Vanessa and Margy on Tuesday mornings for conversation on local happenings like poetry and protests, regional relevancies and global scientific discoveries. Listen for the occasional guest, giveaway and gardening advice. Share a coffee with us while we wend our way through a whimsical morning laced with eclectic music.
Presenter:
Vanessa & Margy

In The Air – Sunday 4pm
Program consists variously of Jazz and Blues and a variety of World and Contemporary Music
Presenter:
Dan
About Dan:
Dan works in Disabilities after years  of making concrete water tanks and in the building industry.
Likes: Movies, cafés, travelling, current affairs and philosophy, listening to radio and writing.
Lives in the country outside of Kyogle.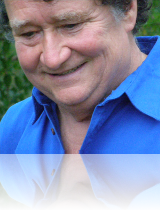 Monday Brekky with Brett – Monday 7am
Monday Brekky is all about you, our listeners!  It is an informal, engaging start to the working week and aims to actively involve as wide a percentage of our community as possible.  One such undertaking being our weekly chat with a local community organisation (more are welcome), with tips about finding employment in the local job market, as well as our upcoming "Create Your Own Radio Play" competition… watch this space!
Presenter:
Brett Harston
About Brett:
Brett has a background in education, media and digital video production in particular.  His first introduction into The Arts was as a 10 year old when he appeared in a national youth theatre competition for aspiring thespians, in a play called "The Butterfly That Stamped" – Brett played the butterfly.  Fortunately he's taken flight to more progressive things since then!
Brett also has an interest in politics and in promoting alternatives to the current (broken) system we have in place.  Along with Monday Brekky on River FM, Brett also hosts Open Air, a two-hour program that brings together a number of alternative news sources presenting under reported news, views and current affairs.

RockLife – Saturday 8pm
RockLife is a Christian music show. Various musical styles are played on the show which runs from 8pm-10pm on Saturday nights. The name comes from the Biblical notion that God is our Rock on whom we can cling to (Psalm 18:2) and that we should live our lives for Him (Galatians 2:20). Thus, we should all live a RockLife!
Presenter:
Lukas
About Lukas:
I am 20 and started RockLife at the beginning of 2011. I felt as though I really wanted to do a show where I could play Christian music and all the doors were opened accordingly. I am studying a Bachelor of Social Science at Southern Cross University and work casually at a shop in Lismore Square

Whirled Music – Sunday 6pm
Program consists variously of Jazz and Blues and a variety of World and Contemporary Music.
Presenter:
Phil Hurst
About Phil Hurst:
An Ex Local ABC breakfast presenter. He worked for The Sydney Morning Herald and in Aussie Cinema, being an assistant director in Mad Max. He still loves movies.
Likes all music, from Classical and World Music to Jazz to Blues to Grunge and Punk.
Twenty years ago Phil suffered a virus that obliterated his short term memory restricting his life to a five minute island of the present, none of which he can ever remember. "Not even Franz Kafka could dream up this sort of hell," he used to say, "it's an ongoing existential sensory deprivation."
Likes nothing better than to sit at a cafe and watch the passing parade of folk walking by.
Always loves to present on Radio.