ON AIR NOW: River FM
Filed under Events, News, Outside Broadcasts
River Fm will once again be broadcasting live from this years Mullum Music Festival: From the Courthouse Hotel all day Saturday and the High School all day Sunday. Join us Live on Air…
Congratulations to our double pass winners…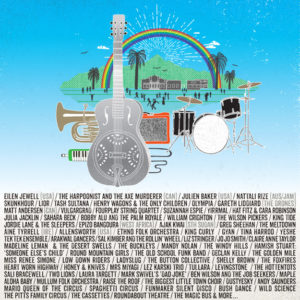 Mullum Music Festival (MMF) is a boutique festival in Mullumbimby, a quaint but vibrant little town in the hinterland of Byron Bay, NSW. The festival has gradually grown from very humble beginnings since the inaugural event back in 2008 – a memorable year for Mullum with the refurbishment and renovation of the Civic Hall, the epicentre of the festival.
The unique structure of MMF creates a special community atmosphere, adding a distinct and special flavour to the event, which festival goers hold dear to their musical hearts.
The action packed program is spread across multiple venues throughout the town. The use of existing structures is a very special aspect of the festival and reinforces not only the 'roaming community' vibe of the event, but also the sustainability of the town both financially and environmentally – two things which the organisers work very hard to ensure.
Artists are routinely seen mingling with the crowd and jumping in as guest performers all over the festival as a part of the laid back family atmosphere and the calibre of attending artists (as both performers and punters) is nothing to sneeze at. Mullum has been blessed with the likes of The Church, Ron Sexsmith (CAN), The Basics, Elana Stone, Marlon Williams (NZ), Robert Forster, Pieta Brown (US), Nano Stern (CHILE), Mama Kin, Arte Kanella, Megan Washington, Montaigne, Sticky Fingers, Emma Donovan & The Putbacks, King Tide, Tinpan Orange, Mojo JuJu, just to name a few…
Since its inception in 2008 when opening night was very nearly rained out and people came out of the woodwork driving miles to avoid fallen trees and powerlines to support what they knew would be a worthwhile event, the festival has grown from strength to strength, evolving and transforming along the way to become one of the most successful boutique festivals in the country.
The Mullum Music Festival – November 17th – 20th 2016.