ON AIR NOW: [LIVE] "ONELive" with DJ Brento & DJ Soli B
Filed under News
Broadcasting Live Tonight From 8pm – 11pm
Featuring: Supafresh, Blakboi, Mixed Ages & Craig Bolt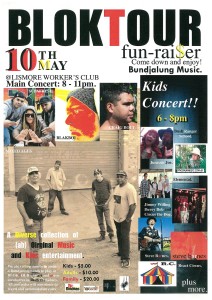 Raising money to assist 4 Bundjalung bands to play at BLOKTOUR
an art and music coroborree in Redfern, Sydney.
All proceeds will contribute to travel and accomodation
Filed under News
Web requests are back up and running
Democracy Now!
Has been moved to midnight
Filed under News
Want to here your favorite song?
website requests are available midnight – 5:30am weekdays
or whenever you hear "get your request on now"
click the image below or use the Request Link on the right hand side of the website ->->->

Filed under News

World Vision Australia's child sponsorship program is helping improve the lives of some of the millions of children around the world still living in grinding poverty. Every child deserves a chance and you can bring hope to children in need by sponsoring a child today.
Call World Vision on 13 32 40 or visit http://worldvision.com.au/sponsor
Filed under News
We are currently aware of a few issues with the streaming and website
we are currently working to fix this problem as soon as possible
we apologize for any inconveniences this may cause
Thanks
Technical
Update: 08/02/2013
Streaming seems to be running happily again


and the website server is back up
however we will be moving the website to a new hosting site in the next few days
during this time some information disappear from our site or out dated information may be displayed,
but we will get it back up to date as soon as possible
Thanks Again
Technical
Filed under News
Ascoltate ogni mercoledi
sera dalle 6-8 pm
per musica italiana, informazioni, discorsi e risate
di Allessandro, Rosa e Alice.
Programma BELLA ITALIA
In English:
Listen to Allessandro, Rosa & Alice every Wednesday evening 6-8pm. Italian music, news, discussion & laughter.
The Bella Italia Show